All That Glitters (ATG) recently had its annual pop up store in Cebu last November 14 – 15, 2019 at Holistic Coalition of the Willing (HoliCOW) Gallery, Crossroads Mall, Banilad.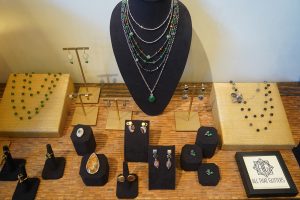 Founded by cousins and co-designers Amanda LuYm and Cacay Moras-Server, ATG's 2019 Holiday Collection highlighted as its muse their hometown, the Pearl City of Cebu, with pieces featuring classic freshwater pearls in modern designs.
Creative designer Amanda LuYM, whose photos of flora and fauna were on exhibit as well shares "As a photographer and designer, botanical studies have always fascinated me. As I have matured in my practice as a creative individual, I have found a desire to emulate nature's sophistication. Great design and composition serve a higher purpose and I have chosen this as my life pursuit. I seek to study nature shapes and the desire of the material to become the best form of itself."
The pieces are created not to be fleeting and trend driven, instead, purposely timeless and transformational as a respect to the craft and the wearer. It is a testament to local creativity, timely so with Cebu City having been recently designated by United Nations Educational, Scientific and Cultural Organization (UNESCO) as a "Creative City of Design".
The exhibit also featured Jaime Chua's collection of indigenous orchids. Chua is one of the largest collectors and staunchest conservationist of indigenous orchids in the Philippines. He actively propagates species that may disappear from the wild unless cultivated by pollinating, harvesting seed pods and growing them in his laboratory. He particularly specializes in the Vanda sanderiana, more commonly known as the "Waling Waling", which is only found in Davao, Zamboanga and Cotabato.
To see and shop All That Glitters' collections, visit their Facebook page at @AllThatGlittersPH and instagram page at: @theglitteratiph