Here's why Cebuanos should try this online supermarket
By: Tony Carmona
All sorts of lockdowns have affected our lives since COVID-19 appeared in the first quarter of 2020. Remember the times where you wasted time finding a parking spot at the supermarket, going from aisle to aisle at the grocery store and most of the items on your list aren't available? We've all been there; the moment we realize that our favorite instant noodles are nowhere to be found, or worse- they even ran out of toilet paper. 
With everything going online from meetings, drinking sessions with friends, banking, to shopping, it was not long till this homegrown gem came to save Cebuano's grocery dilemmas. CloudKart, Cebu's first hassle-free online supermarket, allows customers to shop for groceries online with same day delivery. Here are 6 more reasons why we are in-love with this online supermarket!
Same Day Delivery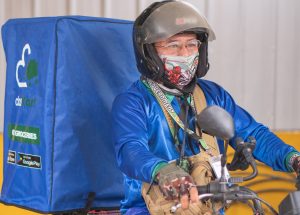 Experience grocery shopping as we would have before the lockdowns happened, without the traffic along the way, and long lines before we pay for our items. Orders placed before 4 p.m. from Monday to Sunday are delivered the same day, while orders placed after this time are delivered the next day. Order status is communicated through SMS and email. Cebu City, Mandaue City, Lapu-Lapu City, Talisay City, Consolacion, Liloan, and Cordova are among CloudKart's delivery areas.
HASSLE FREE GUARANTEE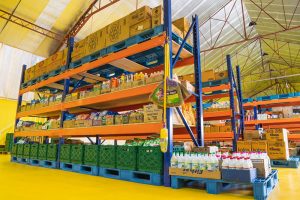 With CloudKart's hassle-free online grocery shopping, you can finally avoid the dreaded long queues, save time and money, and stay safe from the comfort of your home. They source directly from principals and distributors, so you can shop for groceries at supermarket prices. You won't even have to worry if the items you added to your kart are always available and on hand as their stocks and inventory are updated in real-time on their website
All Groceries Are Cleaned and Sanitized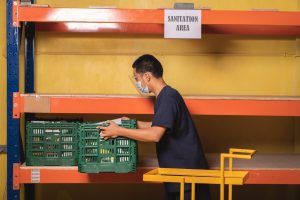 Before getting safely delivered to our homes, all purchases are thoroughly washed and disinfected at their 1,300 sqm facility in Mandaue. Their well-trained personnel safely handle the goods, receive, stock, and dispatch all objects to ensure our safety comes first. CloudKart practices strict sanitation standards and does not allow walk-in customers to guarantee the safety and cleanliness of their facility.
Fixed and Affordable Delivery Rates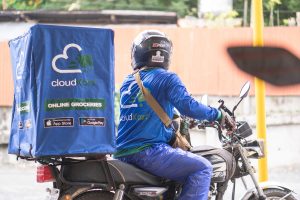 This is one of our favorite reasons to love CloudKart as orders are delivered for a cost of Php 95 within Cebu City and Mandaue City. Lapu-Lapu City and Consolacion deliveries cost Php 140, while Liloan, Talisay, and Cordova deliveries cost Php 200. The fees are the same regardless of the size or volume of the order. With their super affordable delivery rates, we won't have to hesitate to even do groceries- TWICE!
Support for Local Suppliers and Displaced Farmers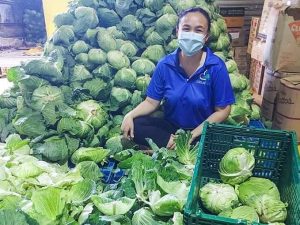 Our purchases from CloudKart benefit Cebu's local businesses and riders impacted by the COVID-19 pandemic. They sell and promote items from local Cebu brands. Fresh fruits and vegetables are sourced directly at fair prices from cooperatives of farmers. Every delivery fee is paid in full to CloudKart delivery staff, who are motorcycle riders who have lost their jobs due to the pandemic. One recent testament for their support was by purchasing 2,000 kilos of cabbages from the farmers of Mantalongon, Cebu to help with their oversupply. With an outpouring of support from customers, the cabbages have all sold out and the cabbage prices have gradually stabilized. All the more reason to genuinely love this online supermarket!
CloudKart Points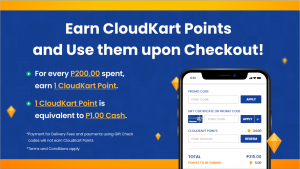 We're getting a lot of bang for our bucks with CloudKart Points. For every P200 spent on our groceries, we'll be getting one (1) CloudKart point. CloudKart Points can be used to make purchases on the website in the future. This is an added treat for us to continue enjoying shopping.
Follow our favorite online supermarket on Facebook @CloudKartOnline and Instagram @CloudKartPH for updates, and join their Viber Community at https://bit.ly/345ifLt for real-time announcements.